Palace of the Twelve Pillars: Book One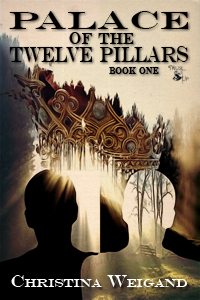 The Peace Summit was in shambles, the prince kidnapped.
When the rival king realizes he kidnapped the wrong prince, hostilities escalate. Loyalties to each other and country are tested for the twin princes of Crato, Joachim and Brandan.
Joachim, captive of King Waldrom, faces deception and betrayal as he struggles to find his way home. Brandan, at home with a father focused on rescuing Joachim, wrestles with his own demons as he searches for his place in the world and the favor of his father.
Torn from the safety and peace of their childhood, they are thrust into a world where bonds of family, brotherhood and roles as heirs to Crato are tested. Through war, spiritual journeys, death and marriage, will they choose the path of good or evil? Who can be trusted, as the world they know slips into a whirlpool of chaos?
Trailer Link: https://www.youtube.com/watch?v=KSmA0Q52h_8
Link Trailer 2: https://www.youtube.com/watch?v=KSmA0Q52h_8
Buy Links:
http://museituppublishing.com/bookstore2/index.php?page=shop.product_details&flypage=flypage.tpl&product_id=571&category_id=69&option=com_virtuemart&Itemid=1
http://www.amazon.com/Palace-Twelve-Pillars-ebook/dp/B00CJE7NI2/ref=sr_1_1?s=digital-text&ie=UTF8&qid=1370318168&sr=1-1&keywords=palace+of+the+twelve+pillars
http://www.barnesandnoble.com/s/palace-of-the-twelve-pillars?store=allproducts&keyword=palace+of+the+twelve+pillars
http://www.kobobooks.com/search/search.html?q=Palace+of+the+Twelve+Pillars
Reviews:
Good children's literature is essential to building a Christian culture by showing rather than teaching the values of our faith.  Jesus spoke in parables because he knew the worth of a good story.
Palace of the Twelve Pillars
is exactly that.
Chris Weigand's entertaining book draws kids into a classic allegory of good vs. evil by focusing on the familiar tension of sibling rivalry.  The twin princes, Joachim and Brandan, are opposite personality types.  Faith and magic, learning and love, come easily to Joachim. Brandan, who constantly struggles, resents his brother's abilities.
Overlaying this central dramatic conflict is the battle between the forces of the good deity Asha, represented by the twins' father King Theodric, and the forces of the evil deity Sidramah, represented by the neighboring King Waldrom who once loved the twins' mother Queen Lilia.
Joachim is by far the most well-developed character. When he is captured by King Waldrom and exposed to the evil deity Sidramah, he becomes inwardly tortured by false memories of having killed his father.  Although I love the name of the character Queen Lilia — it's almost identical to my oldest daughter's name — the queen herself is over-excitable and somewhat unworthy of her role as a wise and just monarch. To my great delight, Queen Lilia received a much-deserved comeuppance at the end of the book.
Palace of the Twelve Pillars is the first in a trilogy, followed by Sanctuary of Nine Dragons and Palace of the Three Crosses. I would recommend this book mostly for middle-schoolers, although I did ask my fourth grader Maria to read it since her level is fairly advanced.  We had a terrific time discussing the Biblical analogies that she did and didn't catch.  Here's her review:
Maria's Review of Palace of the Twelve Pillars
Palace of the Twelve Pillars combines fantasy and religion. I love both so this book is amazing to me! While I was reading I noticed that Asha is God's character and Sidramah is the devil's.
My favorite part of the book is when Brandan wants to go searching for Joachim even though he's a little jealous of him. This is my favorite  part because it reminds me of my sister Marguerite and me. Sure we get jealous of each other and it does include some pushing, shoving, and pulling hair, but we love each other so deeply just like Brandan and Joachim.
My least favorite part is when Brandan stabs Joachim in the shoulder. He literally stabbed him in the back!  Joachim was just trying to help Brandan because he was hurt. This reminds me of God and Satan. God created and loved Satan but Satan betrayed him. Just like how Brandan betrayed Joachim.
Out of 10 stars I would give this book 9 1/2 and I'm a VERY hard grader! I think many religion and fantasy lovers would enjoy this book as much as I did or even more.
by Maria Santos, age 10
Palace of the Three Crosses: Book Two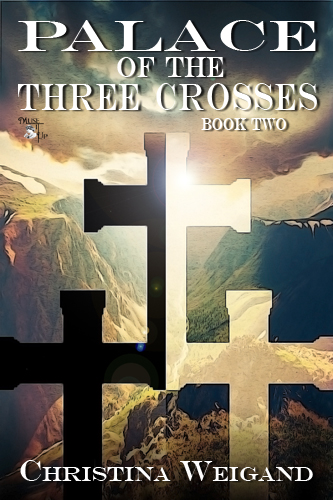 Brandan and Joachim have returned from the brink of Hell, but everyone questions if they are truly healed and one with Asha.
As each prince tries to readjust to life, they must face the funeral of their father and their missing mother.
They each take on the responsibility of ruling a country with new wives by their sides, but can they and the countries survive the trials that will ensue because of their choices?
Teacher's Guide: http://tinyurl.com/kh7wta7
Video Trailer
Link: https://www.youtube.com/watch?v=DmhdCesuOJ8
Link: https://www.youtube.com/watch?v=Cy_qJyeeVmM
Buy Links:
https://museituppublishing.com/bookstore/index.php/new-releases/palace-of-three-crosses-detail
http://www.amazon.com/Palace-Crosses-Twelve-Pillars-ebook/dp/B00FAPW43G/ref=sr_1_1?s=digital-text&ie=UTF8&qid=1379639529&sr=1-1&keywords=christina+weigand
http://www.barnesandnoble.com/w/palace-of-the-three-crosses-christina-weigand/1116894510?ean=2940045264068
https://www.smashwords.com/books/view/356129
http://store.kobobooks.com/en-US/ebook/palace-of-the-three-crosses
Sanctuary of Nine Dragons: Book Three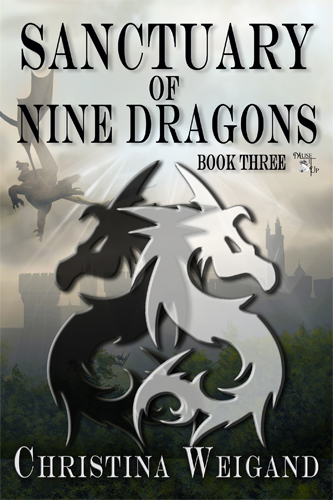 – Joachim banishes Brandan to prison island of Hyogo. His infant son, Prince Airyn disappears from his cradle. A chain of events is set in motion that will pit brother against brother, friend against friend, parents against children as Brandan and Joachim struggle for control of their sanity and their very lives.
With Brandan declared dead and his son missing Joachim sinks into despair and anger, where those close to him fear he may never return.
Is Brandan really dead and if he is, who is manipulating the Mantion and enemies of Crato?
Can Maeve save her country and her husband from the tentacles of evil pervading the land?
Video Trailer Link: https://www.youtube.com/watch?v=FFcvYZ4IruE
Buy Links:
MuseItUp Publishing bookstore: https://museituppublishing.com/bookstore/index.php/new-releases/sanctuary-of-the-nine-dragons-detail
Amazon Kindle Link –http://www.amazon.com/Sanctuary-Dragons-Palace-Twelve-Pillars-ebook/dp/B00IA4UWK6/ref=sr_1_1?ie=UTF8&qid=1391727261&sr=8-1&keywords=christina+weigand
Barnes & Nobles Nook Link –http://www.barnesandnoble.com/w/sanctuary-of-the-nine-dragons-christina-weigand/1118475269?ean=2940148302995
Smashwords Link –https://www.smashwords.com/books/view/403084