Standing by the cross of Jesus were His mother, His mother's sister, Mary the wife of Clopas and Mary Magdalene. When Jesus saw His mother and the disciple He loved standing there, He said to His mother, "Woman, here is your son." He said to the disciple, "Here is your mother." And from that hour the disciple took her into his home. (John 19: 25-27)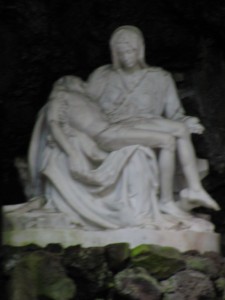 At Jesus crucifixion, Mary's noble bearing of her loneliness and heartache can give us comfort in our times of anguish and pain.  She silently endured what she knew she could not change and realized she needed to be strong to help the remaining apostles in their continuing mission.
Mary stayed with Jesus when most of the others had abandoned Him. For her faith and love, Jesus rewarded her by entrusting her care to his beloved disciple, John.  Her acceptance of God's will at the foot of the cross in the greatest lesson Mary will give us.
Questions to Ponder:
Would I so willingly accept God's will in the face of such anguish and pain?
Would I be willing to learn God's lesson and share it with the world?
Would I turn to God or away from God in my greatest need?"
Excerpted from Women of the Bible: A Study by Christina Weigand. Available at Amazon:
Kindle: https://www.amazon.com/Women-Bible-Study-Christina-Weigand-ebook/dp/B00X19HRW6/ref=asap_bc?ie=UTF8
Print :https://www.amazon.com/Women-Bible-Christina-Weigand-2015-05-02/dp/B01K177MNE/ref=asap_bc?ie=UTF8