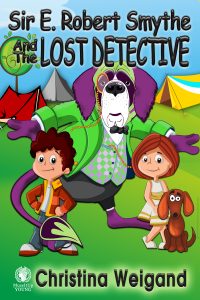 Sir E. Robert Smythe and the Lost Detective:
Chapter One
Eleven-year-old Zoe Jones unzipped the 8' X 10' tent door that she, her mother and her Labrador puppy lived in, really just slept in. There wasn't enough room to do anything more than that. She wished they hadn't had to leave their house at all, but with Daddy gone, there had been no choice. At least they hadn't moved until school was finished so there was a place to do her schoolwork.
After finishing her breakfast in the large dining tent set up by the town for the homeless people to get a hot meal Zoe walked back to their tent. It was time for her and mom to walk to the bakery where Zoe would spend the day while her mother went to work in the city. The sky was blue, with fluffy light clouds, so that meant no rain today while they walked to town. After entering the tent she kneeled and crawled to her cot to brush her hair and pet the dog in his kennel one more time before they left.
"Momma, how much longer do we have to stay here? It isn't fun anymore, not like the camping trip we took with Daddy last year. I want to go home," Zoe said.
The brown and white puppy whined. "Buster doesn't like being in his kennel so much, and he misses his training sessions," Zoe said.
"Zoe, you know we aren't going back home. We can't let Buster run around while we live here. Now hurry up and finish getting ready. We have to get to the park. I need to catch my bus," Zoe's mom said.
Zoe finished brushing her short, red hair. "Do I have to go today? Can't I just stay here? Buster will watch out for me."
"No, you can't stay here by yourself. Mrs. Reilley, the lady at the bakery, will keep an eye on you while I go to work."
Zoe picked up a bag with library books and gave Buster a dog biscuit. "Maybe I'll meet someone at the park today."
"That's the spirit. Isn't the Reading Club Kick-off carnival today?" Zoe's mom asked as they exited their mid-size tent.
Zoe glanced around the homeless camp. It was terrible living here. There were only a couple of children in the fifty tent encampment and they weren't her age. There was no one to play with. She wrinkled her nose, because in spite of the fact that they were able to use the restrooms and the limited kitchen facilities of the soccer field, the camp still smelled of unwashed bodies and human waste. A garbage dump was set up outside the camp, and the trash was picked up once a week, but that didn't completely eliminate the smell from fifty families' trash. Her mother had explained that there were very strict rules for keeping the camp clean, but Zoe didn't think they were much help. "Yeah, I think so," Zoe said, answering her mother's question.
As they walked past Gullies Swamp, Zoe rummaged through her bag. "Oh no, I forgot one of my books. Can we run back and get it?"
"No. If we go back I'll miss my bus. Can't you just bring it tomorrow?"
"It's due today. They'll fine us. I'll just run back and get it."
"Okay, just be careful and don't talk to anybody. I'll see you after work. Meet me at the bus stop at 6:00 and we can walk home together. Now you behave yourself with Mrs. Reilley and enjoy the carnival. Don't eat too many of the baked goods."
"All right. Love you, mom." Zoe kissed her mom on the cheek and ran back to the camp.
The book was on her cot in the tent. Picking it up quickly, she headed back to the park. Passing the swamp, she noticed Morton the Morph, the yellow toad-like creature and his small blue pear-shaped panngoes playing on the edge of the swamp. One of the panngoes bounced into the swamp.
"Hey, you guys shouldn't go in there," Zoe yelled.
"Oh, don't worry about them. They'll be fine. Just a bunch of panngoes," Morton answered as more of the creatures bounced into the swamp.
Zoe heard some dogs barking and one of the panngoes squealing. "One of them might be hurt. Shouldn't you go in there and check on them?" She heard another sound, children talking and laughing. "Oh no, someone's coming. I have to hide. Mamma doesn't want me to talk to any strangers." She glanced around trying to find a spot to hide then looked at the panngoes. She immediately ran to them and straight into the swamp.
One of the bigger ones had fallen in a hole and was calling out for the others to help him. Zoe followed the sound of the crying.
* * * *
Sam Smith stomped through the kitchen door of their two-story house. "Some animal dumped the trash cans again. Why does it only happen on the days I have to take out the trash?" The fifteen-year-old snarled as he grabbed a trash bag and a pair of rubber gloves.
"Sam, stop your complaining and get it done," Sam's mom said. "We're supposed to be meeting Hunter and Anna to go to the park for the Reading Club kick-off," his eleven-year-old sister, Bridget, said.
"Yeah, I'd rather head over to the Gullies Swamp soccer field for a quick game of soccer. I'm sure Hunter would too. I'm too old for the reading club."
"Well, you can't do that," Sam's dad said. "Didn't you see today's paper? They voted to take that field on the other side of Gullies Swamp and turn it into a homeless community while they build some low-cost housing for the homeless."
"Why the heck are they doing that?" Sam said. "Where am I supposed to play soccer?"
"The high school field is open and the new field at the park," Bridget answered.
"But we always play at the Gullies Swamp fields."
"Well I think those fields are creepy. You have to go past the haunted swamp," said his sister, her body shivering slightly in fright.
"It's not haunted," Sam said.
"But you told me…" Bridget said.
"Bridget, how many times have I told you not to listen to your brother's stories about the swamp?" Mom said. "He does that just to scare you so you'll stay away. Sam, finish cleaning up the trash so you can take your sister to the library."
Sam grabbed the broom and stomped out the door slamming it behind him.
To PreOrder:
MuseItUp Bookstore: https://tinyurl.com/yczfngm5
Amazon Kindle: https://tinyurl.com/y89qvcur