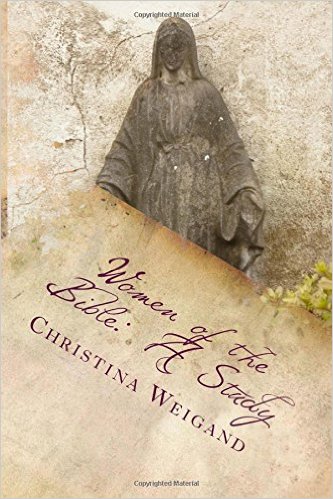 Naomi said to her two daughters-in-law, "Go back, each of you to your mother's house! May the Lord be kind to you as you were to the departed and to me!" Again, they sobbed and wept; and Orpah kissed her
mother-in-law good-bye, but Ruth stayed with her.
"See now!" she said, "Your sister-in-law has gone back to her people and her god." But, Ruth said, "Do not ask me to abandon or forsake you! For wherever you go I will go, wherever you lodge, I will lodge, your people shall be my people, and your God my God. Wherever you die, I will die and there be buried. May the Lord do so and so to me, and more besides, if aught but death separates me from you!" (Ruth 1: 8, 14-17, NAB)
Ruth was a Moabitess, married to an Israelite, She believed in different gods than the Israelites. When her husband died, she could have chosen to return to her people and her religion. Instead, she chose to stay with her mother-in-law, Naomi, and face an uncertain future in a foreign country.
I am often guilty of putting my needs ahead of others. However,  that is not what God wants. He wants me to consider the needs of others first.
The definition of duty is sacrificing what we want so someone else may benefit. This is what Ruth and Naomi did for each other. Naomi was downcast after the death of her husband and sons. Instead of focusing on her own sadness, she directed all her energy on the future of Ruth. Ruth followed Naomi's lead. Her only motivation is her love for Naomi and that motivation is pleasing to God.
If we are focusing on our own happiness, we are getting in God's way. Just because a need presents itself does not mean we have to respond to it. Like Ruth, we need to consider the needs of others through the eyes of love with God in our hearts.
Prayer:
Lord Jesus, Make me more like Ruth, willing to listen and heed my elders and extend a helping hand to those in need. Let me see past my own selfish needs to consider others. Amen.
Women of the Bible: A Study on Kindle:  http://www.amazon.com/Women-Bible-Study-Christina-Weigand-ebook/dp/B00X19HRW6/ref=sr_1_2?ie=UTF8&qid=1440680824&sr=8-2&keywords=Women+of+the+Bible%3A+A+Study&pebp=1440680828954&perid=0AZPH92EV79PDDS5JZ9J
Women of the Bible: A Study Print version:  http://www.amazon.com/Women-Bible-Study-Christina-Weigand/dp/1461042666/ref=asap_bc?ie=UTF8